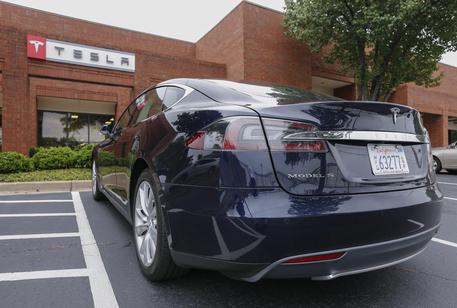 Mercedes-Benz outlined plans to start selling an electric heavy-duty truck in about five years, a week after Tesla Motors Inc.'s initial sketch on battery-powered commercial vehicles failed to impress investors.
The 26-metric-ton Mercedes-Benz Urban eTruck will have a range of about 200 kilometers (120 miles) per battery charge, parent company Daimler AG said Wednesday in a statement. The model, targeted for inner-city tasks such as supermarket deliveries, could go on sale by "the start of the next decade," it said.
"Until now, no one's been making money from electric vehicles," Wolfgang Bernhard, head of the Daimler Trucks division, said at the model's presentation at company headquarters in Stuttgart, Germany. "But those who are too late with new technology lose market share, and that's why these models are coming out now."
Tesla Chief Executive Officer Elon Musk included a freight truck, set for introduction next year, as part of a lineup expansion in his July 21 master plan for the U.S. carmaker. While the company's Model S sedan was the first e-car with broad appeal, a commercial vehicle will pose a new challenge as fleet operators focus on cost of ownership and durability rather than design and comfort features.
Customers will also be reluctant to risk buying unproven technology, said Tom De Vleesschauwer, an analyst at research company IHS Markit. Tesla has the potential to overcome those doubts by cooperating with a partner such as Wrightspeed Inc., a manufacturer set up by co-founder Ian Wright that specializes in electrifying trucks, De Vleesschauwer said.
Electric-Truck 'Enthusiasm'
"Nikola Motor and Tesla have raised plenty of market enthusiasm and speculation," the analyst said. "Market prospects are such that the share of electrified medium- and heavy-duty trucks could grow for specific market applications only."
Sales of electric models might account for 4 percent of European Union and U.S. medium- and heavy-duty truck sales by 2025, according to IHS.
Technology advances are likely to cut the cost of batteries 60 percent and about triple their power by 2025 from 1997 levels, Daimler said Wednesday. About 10 percent of trucks make deliveries in urban areas, making them the prime models to be electrified, Bernhard said.
Developments in technology "will soon make electric trucks economical, but this will have limited applications," he said. "For long-distance freight, the progress with batteries hasn't gone far enough."
Bloomberg