Gucci women's Spring-Summer 2017 collection was presented in Milan on September 21, the opening day of Milan Fashion Week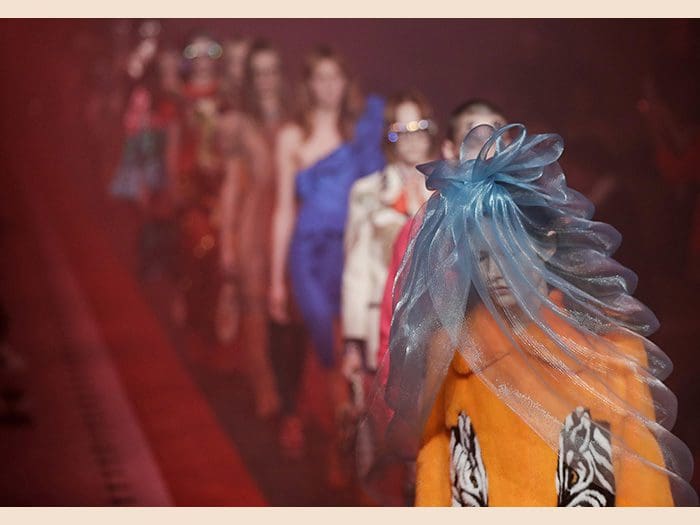 Italian fashion leaders gathered for a "power lunch" yesterday in Milan, kicking off the 2017 spring/summer womenswear fashion week.
Sitting at the table with top guests such as Vogue US editor-in-chief Anna Wintour, Vogue Italia editor-in-chief Franca Sozzani, Prada CEO Patrizio Bertelli and luxury giant Kering CEO François-Henri Pinault was Prime Minister Matteo Renzi, who attended the most important event of the Italian fashion industry, the country's second-largest industrial sector expected this year to generate revenues of €83.6 billion, up 1.4% from 2015.
Just like in February, when he kicked off the 2016/17 autumn-winter season in a first-ever visit for an Italian prime minister, Renzi announced his intention to make the Milan fashion weeks a regular fixture on his government agenda.
"I intend to take part in all future initiatives," Renzi said before the lunch, calling for his successor to do the same. "I want to make clear that it's an obligation for a prime minister to attend such events. It's not a concession given by the occasional head of government."
The fashion industry "is a piece of creativity, genius and talent that deserves respect from politics," Renzi said. "The government is ready to do a lot for the fashion industry, but I ask you all to give a hand to help Italy return to be among G-7 countries and in the world what it must be, a builder of hope in a world that prefers resentment," the prime minister said, citing the government initiatives to support the fashion sector, including the incentives for the internationalization of businesses which are part of the extraordinary plan for the Made in Italy industry launched in 2015.
"I will not tell you what the government will do for the fashion business," but "we will do a lot and we will do that together," the prime minister said.
"What I'm asking you is to help this country offer products as fascinating as your own collections, products made of values, culture, ideals, which are at the heart of craftsmanship as well as of people's sentiment."
Supported by the Economic Development Minister and the Italian Trade Agency (ITA), which is on the forefront of the promotion and internationalization of Italian companies abroad, the Museum of Cultures (Mudec ) in Milan opened yesterday the exhibition "Crafting the future" (until October 13), which showcases a selection of excellent craftsmanship, an essential component of Italian manufacturing that prompts luxury goods makers from all over the world to choose Italian companies to make a large part of their collections.
Milan confirms its leadership as a catalyst of Italian fashion.
"We are considering whether it is possible to establish a fashion incubator in Milan", said the mayor of Milan, Giuseppe Sala, formerly appointed by Renzi as commissioner of Expo Milano 2015.
The universal exhibition drew renewed interest to the city as well as foreign tourists, whose number increased by 13% in 2016, according to Sala.
In the afternoon, Renzi left the lunch at Mudec to present the plan "Industria 4.0".
Fashion house Gucci was the first brand to host its catwalk show yesterday in Milan, where it opened its new "hub" of 35,000 square meters in a post-industrial facility.
Alberta Ferretti, Roberto Cavalli and German designer Philipp Plein, a rising star of the fashion world, also presented their collections on the first day of the fashion week, which runs until September 26.
di Chiara Beghelli