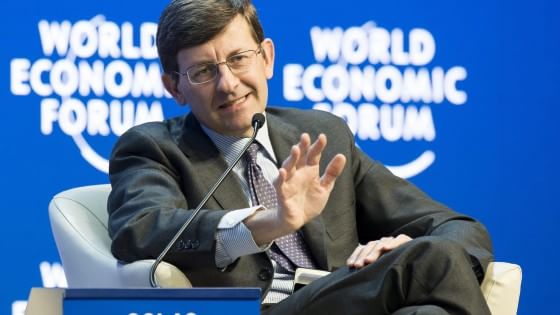 Vodafone Group Plc reported first-quarter service revenue that beat analysts' estimates amid gradual improvements in its European mobile-phone businesses and growth in developing markets. The stock gained.
Organic service revenue — the money Vodafone earns from its customers' monthly phone bills and usage on its network, but not including handset sales — rose 2.2 percent to 12.3 billion euros ($13.6 billion) in the first quarter through June, the Newbury, England-based company said Friday. Analysts had predicted growth of 1.8 percent, according to data compiled by Bloomberg. The figure excludes the impact of acquisitions and currency fluctuations.
Chief Executive Officer Vittorio Colao is succeeding in reviving growth in European markets such as Germany and Italy, while relying on developing markets such as India, Turkey and Egypt for customer gains. Competition is fierce in the U.K., where fixed-line operator BT Group Plc in January completed its acquisition of mobile carrier EE and European Union authorities blocked the proposed combination of two other network operators.
"This is a reassuring set of results," said Polo Tang, an analyst at UBS Group AG. "It amounts to the strongest acceleration in growth for five quarters."
Vodafone shares rose 2.5 percent to 230.75 pence at 8:18 a.m. in London, giving the company a market capitalization of 61.4 billion pounds ($81.2 billion).
Service revenue rose 0.3 percent in Europe, with Germany, Spain and Italy growing and the U.K. shrinking 3.2 percent. The company is facing EU regulations aimed at cutting roaming rates at its biggest markets such as Germany and the U.K. European Commission's roaming directive went into force April 30 and ordered carriers to reduce such rates by 75 percent. The fees are to be cut entirely by June 2017, according to the EU's plan.
Britain's plan to leave the EU is adding to Vodafone's challenges, and Colao said on a conference call the carrier is seeking "pragmatic solutions" to deal with the matter. Vodafone said after the June 23 referendum that it couldn't guarantee that its headquarters would remain in the country if Brexit negotiations resulted in unfavorable business conditions.
Outside of Europe, growth is faster. Service revenue increased 19.5 percent in Turkey, 9.4 percent in Egypt and 6.4 percent in India. The improvement in India was partially attributed to the unwinding of a service tax on mobile termination rates, analysts surveyed by Bloomberg said.
The company said it continues to prepare for a potential initial public offering of the Indian unit. Vodafone has no further plans to spin off businesses in developing markets, Colao said on the call.
The company has no collaboration plans with Liberty Global Plc beyond a Dutch joint venture announced in February, Colao said. More than a year earlier, Newbury, England-based Vodafone was weighing a tie-up with Liberty Global to create a phone-Internet-TV company across Europe, people with knowledge of the matter said at the time.
Michael Scaturro, Bloomberg