Morgan Stanley says the tech giant's future isn't what you think.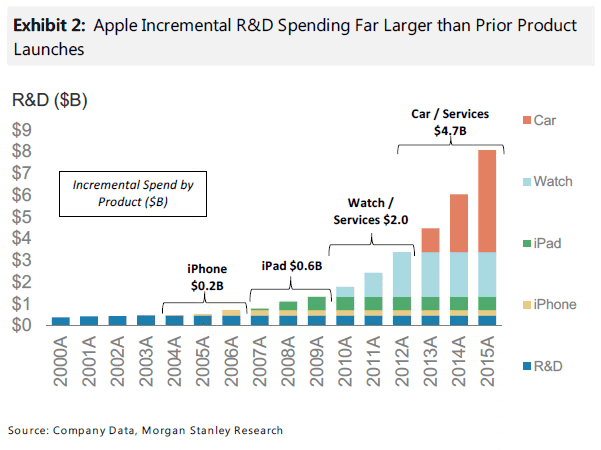 Don't expect Apple Inc.'s $1 billion investment in Chinese ride-hailing startup Didi to be its last.
Morgan Stanley analysts led by Katy Huberty and Adam Jonas recently took a look at Apple's spending on incremental R&D and found something shocking. Not only is the creator of the iPhone forking out more now than it did when it launched its most successful product, it's also burning more cash than the top 14 automakers combined, and that's an industry deep in transformation. While Apple has spent $5 billion on additional research and development from 2013 to 2015, the major players looking to electrify the fossil fuel world spent only $192 million. (Tesla Motors Inc., though not one of the 14, has spent about $444 million over that same time frame.)
Huberty believes shared mobility has been the main driver of Apple's increased spending. "Apple's recent investment in Didi Chuxing signals an interest in shared rather than owned vehicles creating a recurring revenue stream at maturity," she writes. "With Apple outspending the major auto OEMs on this opportunity, we believe Apple could gain at least 16 percent of the shared mobility market, similar to the company's share in smartphones today."
However, Morgan Stanley can't confirm that this exact amount has been dedicated to the auto space.
The team adds that given the massive size of the shared mobility market, which is $2.6 trillion by their estimates, the revenue potential for Apple is huge. They expect $400 billion of revenue and $16 of earnings per share for Apple in 2030, which is more than other parts of Apple generate today. The iPhone, which makes up more than 60 percent of Apple's current revenues, generates just over $150 billion in revenue per year.
The team at Morgan Stanley currently has an outperform rating on the stock and a $120 price target.