PepsiCo Inc.'s latest commercial, slammed on social media for a tone-deaf exploitation of the Black Lives Matter movement, has become a cautionary tale about relying on an in-house advertising team.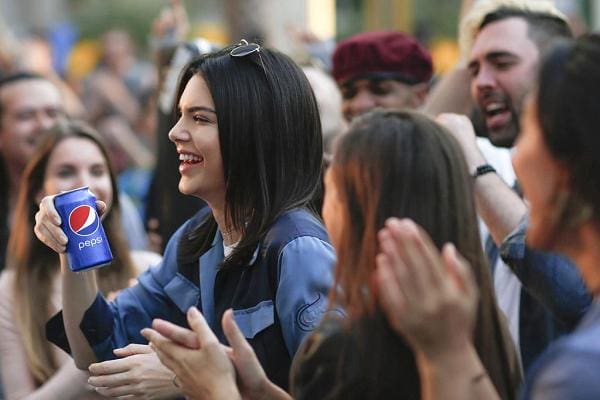 The spot, which features Kendall Jenner offering a Pepsi to a police officer in the middle of a street protest, was handled by the company's Creators League Studio division. That team was launched in 2014 and given state-of-the-art studio space in Manhattan last year, allowing the beverage giant more flexibility and control over its message.
Since its release on Tuesday, the ad has drawn widespread criticism on social media and undermined the start of a campaign. By Wednesday afternoon, the heat was too much for PepsiCo. It pulled the ad from its YouTube page and said it was sorry.
"Pepsi was trying to project a global message of unity, peace and understanding," the company said in a statement. "Clearly we missed the mark, and we apologize. We did not intend to make light of any serious issue."
Keeping everything under the company's roof may have meant the ad was looked at with less skepticism and fewer points of view, according to Allen Adamson, the founder of BrandSimple Consulting.
"That's the challenge of an in-house creative group, they tend to overdrink the Kool-Aid and they lose that sense of objectivity," he said. "They're looking at the world through Pepsi-colored lenses."
PepsiCo had said the ad was part of a campaign to celebrate "Live For Now" moments: "Moments when we decide to let go, choose to act, follow our passion and nothing holds us back." The short film "showcases elements of the Pepsi disruptive design program that combines icons with expressive typography to capture the moments that ignite action," the company said.
On Wednesday, Purchase, New York-based PepsiCo said it would halt any further rollout of the ad. "We also apologize for putting Kendall Jenner in this position," the company said.
Corporate marketing campaigns are increasingly putting products at the center of social causes, an attempt to woo younger consumers. Coca-Cola Co., Alphabet Inc.'s Google, Airbnb Inc., AB InBev's Budweiser and Volkswagen AG were among Super Bowl advertisers who took the approach this year.
Reaching millennials is important for companies like PepsiCo and Coca-Cola. The soda industry has faced hurdles as consumers have increasingly cut soda from their diets. Per capita consumption of soda fell to a 30-year low in the U.S. in 2015, according to Beverage-Digest, a trade publication.
But PepsiCo's latest play for younger consumers fell flat, Adamson said.
"They did it in a generic, Disney-ish way," he said. "It delegitimizes, trivializes the importance of that movement. They stepped on the third rail."
The prevalence of social media also makes it harder for a company to ride out a marketing faux pas, according to Laura Ries, co-founder of Ries & Ries, a brand strategy consulting firm.
"Internet justice is strong and swift when it comes to ill-conceived advertising messages," she said.
Bloomerg