There are twice the number of Indians in Qatar than Qataris.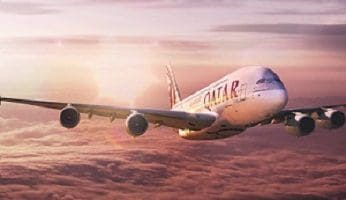 With over 26 lakh fliers travelling to and from Qatar in financial year 2015-16, it was the fourth busiest international route for India, according to government data. It's these numbers that have prompted Qatar Airways Ltd. to want to set up a domestic airline in India, said aviation expert Amber Dubey, partner at global consultancy KPMG.
The state-owned airline's Chief Executive Officer Akbar Al Baker said on March 8 that his company plans to set up an Indian carrier with a fleet of 100 narrow-body jets.
Dubey pointed to the paltry number of seats, 24,000 per week, Qatar Airways is entitled to under Qatar's bilateral seat-sharing arrangements with India, to explain the state-owned airline's interest in India.
This adds up to just around 1.2 million passengers out of the 37 million passengers that Doha handled in 2016. With the Government of India not showing much interest in increasing Qatar's quota, it has no option but to have a stake in an Indian carrier and use it as a feeder into its Doha hub.
Amber Dubey, Partner, KPMG
In comparison, under bilateral seat-share agreements, Dubai in the United Arab Emirates (UAE) is entitled to 65,200 seats, Abu Dhabi another 50,000 seats, and Sharjah 18,816 seats per week, as per Ministry of Civil Aviation data. This augurs well for Qatar Air's rivals Emirates, and Etihad Airways.
Saudi Arabia is entitled to 20,000 seats per week, while the quota for Oman is 21,149 passengers per week.
Amrit Pandurangi, partner at consulting firm Deloitte Touche Tohmatsu India LLC, concurred, "Qatar Airways would be able to use an Indian arm to present a better case to the government to get more seats under the seat-share agreements, by means of having a better understanding of flyers, and being able to show that to the government".
Qatar Airways will be able to operate flights to and from Delhi, Mumbai, Hyderabad, Bengaluru, and offer connectivity to their flyers for international flights through code share agreements.
Amrit Pandurangi, Partner, Deloitte Touche Tohmatsu India
Regulatory Turbulence?
Last week at the Qatar-U.K. Business and Investment Forum, Al Baker told journalists that the state-owned carrier would like to establish the new airline soon. "It could be this year. It depends how fast we can arrange our application."
Also Read: Qatar Air Chief Accelerates India Push, Plans New Routes to U.K.
But before it lands in India, Qatar Air will have to fly through some regulatory turbulence. While India recently allowed 100 percent foreign ownership of a domestic airline, it capped at 49 percent the shareholding of a foreign airline. Unless the Indian government relaxes the rule, Qatar Air will have to resort to smart structuring to not own yet manage a local carrier.
"This is as unfathomable as saying we can have 100 percent foreign direct investment (FDI) in telecom as long as there's no investment by a global telecom company. Do the policymakers expect a Goldman Sachs or Temasek to run an airline along with other non-airline partners," said Dubey when critiquing the government policy.
And then there's the challenge of creating a successful business plan.
Does India Need Another Airline?
Most Indian immigrants to Qatar hail from southern states such as Kerala, lured by blue collar jobs in the rich Arab peninsular country, said Dubey. That might determine the airline's route strategy in India.
Qatar Airways will look to have its interests more in south India, and it could be expected of them to have more flights to cities and towns there," added an industry expert on the condition of anonymity.
The airline top scores in many international service quality surveys and Dubey suggested it may adopt a similar strategy in India.
Given its brand positioning, there's a high probability that it may go for a full service, twin-cabin configuration.
Amber Dubey, Partner, KPMG
But he quickly added that "what worked elsewhere may not necessarily work here, especially given the highly price-sensitive nature of customers in India".
Aviation is a tough business, particularly in India, due to steep levies on fuel and high airport infrastructure charges.
Among incumbent carriers, only market leader IndiGo has been consistently profitable over the past few years. Financial year 2015-16 was kind to airlines, thanks to benign prices of crude oil aiding their bottom lines.
But before the big decline in crude prices, Naresh Goyal-promoted Jet Airways Ltd. had to sell a strategic stake to deep-pocketed Etihad Airways, while SpiceJet Ltd. was forced to scrap several routes, reorganise its business to save the airline from near bankruptcy and eventually be rescued by a co-founder.
But with domestic passenger traffic growing at over 20 percent per year and expected to grow by 25 percent this year, Pandurangi said, "there definitely is room for more carriers from the demand point of view."
Incumbents disagree.
There isn't the infrastructure to support another player, SpiceJet's Chairman Ajay Singh said at an industry event on March 15.
Airlines in India today have ordered hundreds of planes and there is a severe paucity of airport capacity and airspace capacity as well. So, we think adding more planes to that will create bigger problems for India.
Ajay Singh, Chairman, SpiceJet
SpiceJet recently placed an order with Boeing for 100 new aircraft, with an option for 50 more.
"You can't be giving foreign airlines a head start. Indian carriers are already losing money due to high operational costs. The Indian carriers need to be given a chance to expand," said Jitendra Bhargava, former executive director of national carrier Air India, disagreeing with the idea of encouraging a foreign carrier to set up base in India.
With Qatar Airways' deep pockets, it may shut down one of the Indian carriers.
Jitendra Bhargava, Former Executive Director, Air India
Pandurangi partially agreed.
Some airlines on the borderline of financial stability may face pressure considering Qatar Airways' deep pockets.
Amrit Pandurangi, Partner, Deloitte Touche Tohmatsu India
Dubey pointed to past instances of how incumbents have fought new competition. "No one loves competition in any sector. Indian carriers have steadfastly opposed any FDI in airlines. They along with their lobby group FIA (Federation of Indian Airlines) are likely to oppose it tooth and nail," he said.
Not passengers though. The industry expert quoted above said, "A new airline, particularly a foreign player with deep pockets, would only further intensify the competition. The beneficiary will be the flier".
Bloomerg