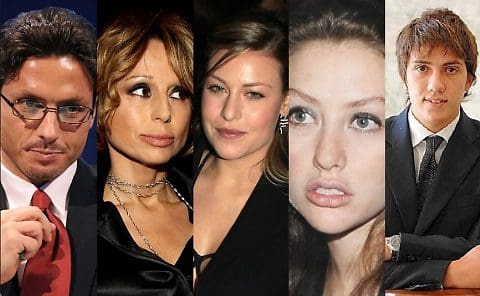 Yesterday Mediaset controlling shareholder Silvio Berlusconi clarified a delicate point: there is no internal rift within his family. Not an insignificant issue, because the contest with Vincent Bolloré for the control of Mediaset comes at a key moment for the former Italian prime minister's empire.
"There is complete unity in my family on one precise point: we have no intention of letting someone try to diminish our role as business leaders. For this reason we have increased our stake and we will continue to do so within the limits of the law," the family said.
The issue of succession has been on the table for a while, and now like never before it appears that events risk accelerating choices that up to a few months ago were just theoretical considerations. Will the Berlusconi family succession be industrial or financial? In future, will his five children, Marina, Piersilvio, Barbara, Eleonora and Luigi divide his companies or his assets?
His statement yesterday and the use of the term "business leaders" was by no means random.
Fininvest, with almost €5 billion in revenues and more than 20,000 employees, is one of the biggest Italian business groups. The holding controls Mediaset, Mondadori, Mediolanum, AC Milan and other financial investments. Then there are also the real estate assets, in the large part managed by Dolcedrago, which is the exclusive property of Berlusconi himself. Nevertheless, recent events put the rich portfolio of shareholdings at risk, which concerns all the companies, except for Mondadori.
AC Milan is for sale, which is on its way to completion. Based on the preliminary contract signed with the Chinese consortium, in March €320 million will be heading towards Fininvest's coffers, adding to the €200 million they have already received.
Then there is Banca Mediolanum. Fininvest holds 30.124% but 20.125% lacks voting rights. This follows opposition from the European Central Bank to Fininvest taking back full control of its stake in Mediolanum as established by a ruling of the Council of State last spring. The company has already presented an appeal. If the position is confirmed, then a sale would be obligatory.
And finally there is Mediaset. Here Bolloré's swoop on the company's capital opens up multiple scenarios, including a sale. But it is difficult to imagine a Mediaset in which Fininvest manages such a cumbersome Vivendi presence. The impression is that dialogue may soon open up between the two groups.
If this translates into a reduction of Fininvest's position in the capital of a more European Mediaset is difficult to say. If this happens it would suggest more of a financial succession in the Berlusconi family, which would become less "company-entrepreneurial" and more of a "stakeholder" family, with an increasingly wealthy holding.
The defence of Mediaset is the priority now. This emerged clearly on Tuesday evening with the first, quick meeting between Silvio, Marina and Piersilvio Berlusconi. During the summit, which was also attended by the chief executive of Fininvest Danilo Pellegrino, they acknowledged the decision to increase their stake in the television group, a choice made in the morning after a round of telephone calls that involved all of Berlusconi's children.
There is mutual agreement and "unity" on the strategy to follow immediately. But it is not clear if there is the same shared vision for the future of the group. Marina and Piersilvio have already shown that they want the family's control of Mediaset to remain firm, but Berlusconi's other children have shown less rigid positions, seeing not just problems but also opportunities in the situation.
These are two strands of thought that may also have to contend with their respective shareholdings in Fininvest. Today the structure of the company sees seven holdings owned by the Berlusconi family with 100% control. Four belong to Silvio Berlusconi, amounting to about 61% of the total capital. The rest is owned by his children, divided in equal parts. But if Marina and Piersilvio have a 7.65% quota each, the children of Berlusconi's second marriage, Barbara, Eleonora and Luigi, can count on 21.4% altogether. That is 6% more, which could play a decisive role in the future.
Marigia Mangano, Italy Europe 24