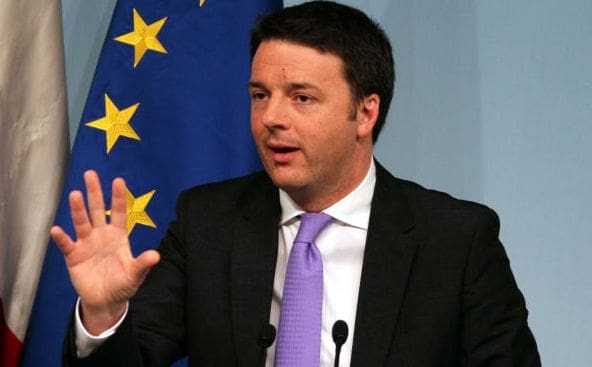 Italians are about to have their say on Prime Minister Matteo Renzi and the economy isn't doing him any favors. When the country holds a referendum on a key constitutional change Dec. 4, many voters will have more than "Yes" or "No" on their mind. They'll probably take the opportunity to vent their frustration over the snail's pace of growth after the latest recession in a country whose economy has contracted 2.1 percent since 2002.
"For people like me, the recovery has never become tangible," said Stefania Iaccarino, a Rome-based employee of call-center manager Almaviva Contact SpA. "For many, the referendum will be the chance to express a no-confidence vote toward the ruling class." With the economy stagnating and only limited improvements in the labor market, Premier Renzi has a major hurdle to win over voters such as 46-year-old Iaccarino, who fears for her job after her company announced the cut of about 20 percent of its Italian workforce.
Brexit, Trump
Just like the U.K.'s June Brexit decision and the resentment fueling Donald Trump in the U.S., Italy's binding referendum in just over 50 days will let voters show their anger regardless of the content of the proposed constitutional changes.
Renzi has said he'll quit if the reform aimed at streamlining the government is rejected. That could dim the outlook for the third-biggest economy in the euro region because a government collapse would hold up budgetary measures supporting growth next year while putting an end to its reform drive.
"In the event of a 'No' vote in the constitutional referendum and Italy experiencing a period of political gridlock, GDP growth in 2017 will fall from 0.9 percent in our baseline to 0.4 percent," Nicola Nobile, senior euro-zone economist at Oxford Economics Ltd, said in a report on Friday. "Financial markets and private investment will react negatively." European Central Bank President Mario Draghi has been stepping up his warnings that euro-area governments must take action to improve productivity and raise the long-term growth potential of the region. The ECB Governing Council will meet next week for one of the four remaining policy-setting sessions left until the currently scheduled end of its quantitative easing program.
'Downside Risks'
Italian employers' lobby Confindustria said in a Sept. 15 report that Italy will grow a paltry 0.7 percent this year and an even smaller 0.5 percent in 2017. "There are also downside risks for next year," said Luca Paolazzi, the powerful organization's chief economist.
Confindustria and farmers' lobby Coldiretti back Renzi's constitutional reform, saying it could eventually make Italy a better place for business and investment. It's Italy's Turn to Unnerve With a Referendum: QuickTake Q&A
The outlook for employment may even be worsening in several industries.
Bank of Italy Director General Salvatore Rossi said in an Oct. 4 speech that job cuts may soon become "inevitable" for some banks saddled with bad debts.
Earlier this month Agfa-Gevaert NV, Europe's biggest maker of printing plates, said it plans to close a factory in northern Italy.
Alitalia Workforce
Alitalia, the country's main airline, may need to reduce its workforce as part of an effort to raise productivity, according to a Corriere della Sera interview with James Hogan, chief executive officer of Etihad Airways PJSC. The Abu Dhabi-based carrier owns 49 percent of Alitalia.
The jobless rate in August was 11.4 percent, the same as at the end of 2012 in the midst of Italy's longest slump since World War II. Unemployment for those aged 15 to 24 was 38.8 percent, reflecting the enormous hurdles young people face and prompting thousands to vote with their feet by leaving for work abroad.
Job creation was indicated as a top priority by 64 percent of respondents in an Oct. 3 survey by polling company Ipsos for La 7 television channel, compared with just 8 percent for Renzi's constitutional reform.
Rejection Projected
All but one of Italy's main polling firms signaled this month that "No" will prevail in the referendum, with surveys saying on average that the reform will be rejected by 52.2 percent of voters, up from 50.4 percent in September.
To make things potentially worse for Renzi, just three days before the vote, Italians will learn whether the recovery resumed after stalling in the three months through June, when the national statistics office publishes its final reading of third quarter gross domestic product.
"We might go to the polling stations in the wake of a negative GDP figure," said Alberto Bagnai, who teaches economics at Gabriele d'Annunzio University in Pescara. "That could have a direct impact on the vote."
While recent industrial data have exceeded expectations, confidence among households and executives about the outlook is not very optimistic. Renzi himself acknowledged that economic concerns might influence voters and has tried to reassure them. Last week, the premier and his Finance Minister Pier Carlo Padoan repeatedly defended the government's above-consensus target of 1 percent growth next year. The central bank called the goal "very optimistic" — a code phrase signaling difficulties ahead.
While coping with the possibility of losing her job with Rome-based Almaviva, Iaccarino struggles to imagine what next year will have in store.
"At present, I can't think of what I'll do in the next weeks, let alone in 2017," she said. "At least I own my home and don't need to pay a mortgage like many of my colleagues who'll soon be unable to do so."
Bloomberg